Hi there, and welcome to Pet People Rock where we specialize in natural, holistic health for both pets and people. We are here to provide alternative solutions and information so that you can make the best possible health and wellness decisions for you and your pets.
HEALTHY PET FOOD & TREATS
Ollie's dog meals are tailored specifically for your dogs own needs according to their age, breed, activity level, allergies, and ideal weight so the portions are just right for your pets. Meals are made with quality meat, fruits and veggies cooked gently to preserve nutrients. The ingredients contain super foods like chia seeds full of omega-3 fatty acids. There are no fillers, by products, artificial flavors or preservatives.
Switching your dog to Ketona pet food is likely to remove approximately 75% of carbohydrates from their diet. Studies have shown that carbs contribute to many health issues such as diabetes, inflammation, obesity, changes in blood sugar levels, cancer and more. Ketona contains no wheat, corn, rice, potatoes, rye, sorghum, beans, soy and has no artificial flavors or colorings. After trying Ketona dog food for 30 days and you are not satisfied with the changes in your pet, they will provide a 100% full refund.
Nomnomnow cooks their food fresh in their own facility. Meals are individually vacuum sealed and perfectly portioned for each and every pet. It's then delivered directly to your doorstep.
Wysong is a family company esablished in 1979 by Dr. Wysong. This company is a true pioneer of the holistic natural pet food and pet health industry for dogs, cats, horses and ferretts. Wysong carries a wide spectrum of food, supplements and vitamins for your pets optimal health and well being.

All natural "bake at home" pet treats. Enjoy baking at home with your family while you prepare these wonderful 100% natural and organic treats. Just add water, knead the dough and bake for 30 minutes.
CBD OIL FOR YOUR PETS!
TRIPLE SURE – NATURAL FLEA & TICK KILLER – #1 Best Seller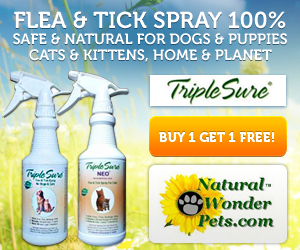 DENTAL HEALTH
NATURAL HERBAL PET RX FOR DOGS & CATS
ASK THE VET – GET YOUR QUESTIONS ANSWERED!!
AUTOMATIC PET FEEDERS
HAVE YOU LOST YOUR PET? Lost My Doggie is a lost pet locating service that can dramatically increase the chances of finding your pet.
GPS LIVE TRACKER – Always know where your pet is! Attach to your dog's collar and you will always have peace of mind.
Shop the bestselling Dog and Cat GPS Tracker from Tractive! Click HERE!
DNA TESTING FOR YOUR PET– Have you ever wondered about your dogs family tree, what genetic conditions they have or what breeds were in their past?
DESHEDDING TOOL