Hi there, and welcome to Pet People Rock where we specialize in natural, holistic health for both pets and people. We are here to provide alternative solutions and information so that you can make the best possible health and wellness decisions for you and your pets. In addition, we don't claim to be doctors or veterinarians, and it's always best to check with your professionals before choosing alternative routes.
However, after spending literally decades researching and many, many years of our own experiences, both personally and professionally, we believe a holistic lifestyle is always preferable for both you and your pets.
Over the last few years, most people have come to realize the health hazards of chemicals and toxins in many products that are consumed orally and topically. These products we use daily are directly related to health issues and diseases that are popping up all over the country.
Therefore, finding the right solutions to these issues are often not an easy task. If you do find the solution, making that commitment to change unhealthy habits can be just as difficult. Our pets have the same health challenges that we do. One of the top recommendations that we always start out with is a nutrient rich, chemical free food and pure drinking water. Take it one step at a time and you'll be well on your way!
HEALTHY PET FOOD & TREATS
Get your pupjoy on! Pup Treats, Chews & Toys
Pupjoy is a monthly, bi-monthly or quarterly subscription box full of dog treats, chews and premium toys. Your pups gift box is delivered directly to your front door. Pupjoy was the 2018 Pet Care Innovation Prize Winner.
Dog Food
Ollie's dog meals are tailored specifically for your dogs own needs according to their age, breed, activity level, allergies, and ideal weight. So, the portions are just right for your pets. Meals are made with quality meat, fruits and veggies cooked gently to preserve nutrients. The USDA certified ingredients contain super foods like chia seeds full of omega-3 fatty acids. There are no fillers, by products, artificial flavors or preservatives. It was also formulated by a team of specialized veterinarians.
Ollie comes packaged in recycled, resealable trays with a portion sized scooper.
Ollie donates 1% of its revenue to shelters and rescues. You have a 100% money back guarantee if not satisfied. Shipping is free!
Nomnomnow adheres to the highest food safety standards, and inspects every ingredient. The company cooks their food fresh in their own facility. Meals are individually vacuum sealed and perfectly portioned for each and every pet. Then, just days after meals are prepared, they are delivered directly to your doorstep while being kept cold during the delivery process.
Wysong is a family company esablished in 1979 by Dr. Wysong. This company is a true pioneer of the holistic natural pet food and pet health industry for dogs, cats, horses and ferretts. Wysong carries a wide spectrum of food, supplements and vitamins for your pets optimal health and well being. The company has been feeding pets for over 40 years. Wysong has an enormous collection of very happy and satisfied customer testimonials. They view pet nutrition very seriously. Dog or cat parents can choose from dry, canned or raw food.

CBD OIL FOR YOUR PETS!
CBD oil is one of many cannibinoid compounds found in the hemp/cannabas plant. It is a plant based compound that is non-psychoactive, non-toxic and completely natural. It will not produce a so-called high for your pet. Research continues to show that CBD can be beneficial in treating a wide variety of ailments including nausea, pain, arthritis, skin conditions, asthma, diabetes, heart disease, seizures, digestive issues, mental health issues, cancer and more.
Shop 300mg King Kalm CBD Oil at King Kanine Now!
Direct CBD Online
NATURAL FLEA & TICK KILLER, TRIPLE SURE- #1 Best Seller
Conventional flea and tick medications use poison to kill the pests and prevent re-infestation on your dog or cat. Most of these treatments are synthetic chemicals that are slowly poisoning your pet in addition to poisoning the fleas and ticks. There are risks to using these medications, and your pet may have undesirable reactions. Side effects may include vomiting, loss of appetite, diarrhea, anxiety or aggression. There can also be serious long term problems such as liver toxicity, brain lesions and cancer.
TripleSure is a 100% safe, natural flea/tick control and killer that relies on that natural occurring plant compounds which are harmless to your pets and people. Veterinarians approve TripleSure for year round use.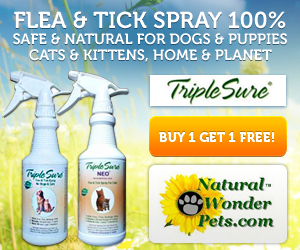 NATURAL DENTAL HEALTH
Let's just admit it. Brushing your dog or cat's teeth is just about one of the least desirable things pet owners feel like doing. Not only that, your pet is highly unlikely to respond well. Even with the most compliant pet, this can be a daunting task. We, as pet owners know that oral health is linked to overall health. One of the top health issues our pets face is dental disease. According to the American Veterinary Medical Association, at just three years of age, a whopping 80% of dogs and cats have some type of oral disease. Thankfully, we have a better, natural solution to this problem. DentaSure is a 100% natural, healthy dog dental spray that is easy to use by spraying once or twice daily. DentaSure is alcohol free, freshens breath, fights cavities, tarter build up and improves the oral health of your pet.
NATURAL HERBAL PET RX FOR DOGS & CATS
Natural Wonder Pets contain no GMO's, no fillers, no grains, no yeast, no alcohol, no binders, no sugars, no gluten, no starches and nothing synthetic. These products are made in the USA and are USDA organic certified or Wildharvested human food. Their manufacturing practices meet or exceed the FDA's current Good Manufacturing Practices.
Natural Wonder Pets provide numerous solutions for pets with various diseases and ailments such as kennel cough, diarrhea, diabetes, parvovirus, Addison's, cataracts, arthritus, thyroid, urinary tract, and more.
ASK THE VET!
GPS TRACKER
GPS LIVE TRACKER – Always know where your pet is! Attach to your pet's collar and you will always have peace of mind. The Tractive GPS works wherever your cell phone works. You can see the exact location of your dog or cat at any time from anywhere by watching on your smartphone.
Shop the bestselling Dog and Cat GPS Tracker from Tractive! Click HERE!
HAVE YOU LOST YOUR PET? Lost My Doggie is a lost pet locating service that can dramatically increase the chances of finding your pet. Take action immediately. Lost My Doggie will send out free notifications to shelters, rescues and vets. An amber alert will be issues to the neighbors.
DNA TESTING FOR YOUR PET– Have you ever wondered about your dogs family tree, what genetic conditions they have or what breeds were in their past?
Submit your site in
cotid.org the best of internet directory
for free! This site is listed under
Dogs Directory
If you enjoy our site, please like us on facebook.